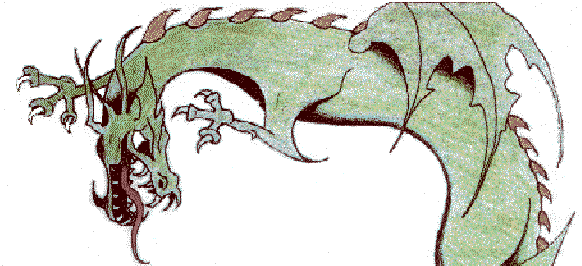 Dorset Earth Mysteries Group
Talks in Detail 2004
January 15th - The Spirit of the Labyrinth.
Caroline Hoare
The Labyrinth is divine, mysterious and magical. It has been with us for thousands of years and can still be found today in various forms all over the world. As a natural spiral, it has been adopted by many cultures throughout history as a tool for healing, meditation, self-discovery and connecting with spiritual ancestors. Caroline has connected with earth energies through the labyrinth for several years, introducing others to build and walk the labyrinth. With slides she will cover labyrinths past and present and how we can connect with them to enhance enlightenment, vision and harmony.
February 5th - The St Michael Ley Line.
Peter Knight.
DEMG Chairman and local author Peter tonight returns to give one of his typically inspiring presentations of the history of research on Britain's most famous ley line which runs from Cornwall to East Anglia. He will also share his own dowsing experiences and new discoveries he has made along the ley in recent years, including new stones, dragons and serpents! Includes beautiful colour slides of such places as Dartmoor, Glastonbury, Avebury and other sites along the 400 mile alignment.
March 4th - Ancient Technologies
Steve Hawker
A DEMG member, Steve will look at the anachronisms of some discoveries in the pyramids, talk about Browns Gas and discuss the possibility that the ancient civilisations may have been a little more advanced than we currently believe.
April 1st - Shamanism - a Living Tradition.
Carole Trickett
Talk followed by a shamanic circle - bring your drums and rattles! (More details to follow).
May 6th - Unravelling the Mysteries of Ireland's Sacred Sites
Rodney Carr-Smith
Including: The Uisneach, ancient Navel of Ireland and its two great Beltaine fires - The stone basin culture of the Boyne Valley around which great mounds such as Newgrange were built - lnvestigating the subtle superimposition of the Early Christian Church onto existing Celtic power sites - Decoding several examples of the so-called "Alignments" of stones - A personal interpretation of the function of Round Towers based on Earth Energy findings - The tallest Standing Stones in Europe and their purpose - Examples of the 4 types of Irish "tomb" structure and the results of their architecture on human consciousness - The energetic function of Stone Circles and Royal lnauguration Sites as places of Assembly - Early Christian Saints seen through their connection to paganism and the landscape - Remote Dowsing the Scattery Island ecclesiastical complex from the mainland.
June 3rd - Britain's Prehistoric and Celtic Shamanic Practices.
Serena Roney-Dougal
The roots of British shamanism (natural magic, witchcraft and paganism) extend from the Neolithic stone circle builders. Through myth and legend we can discern knowledge of their shamanic practices. One result is the Celtic lunar calendar, based on the 6th C. Gaulish calendar discovered in 1897 at Coligny in France. The system is native to Western Europe, having developed from the ritual calendar of the megalith builders. Serena Roney-Dougal holds a PhD in Parapsychology and is the author of "Where Science and Magic Meet" (Vega Books) and "The Faery Faith" (Green Magic). She has spent over 30 years studying the scientific, magical and spiritual aspects of the psyche, holding lectures and workshops in the USA, Europe and India, and presently lectures on Parapsychology in India during the winter.
July 1st - Sacred Geometry and the Mystery of Matter, Space and Time
Heather Paton
Geometric Forms can reveal wonderful relationships between physical, fluidic, gaseous, fiery and etheric states of "matter". Using her geometric models, Heather will show us manifold connections between the evolution of the planet earth and the Temple of the Human Being. Heather is from New Zealand and has studied sculpture, etheric movement, geometry and esoteric teachings.
August 5th-The Meon Way
Gary Biltcliffe
Through his research for a forthcoming book, Gary has discovered an ancient pilgrim route whilst following the longest ley in the British Isles, the Belinus Line. This route links sacred hills including Beacon and Brailes and sanctuaries such as Uffington and Rollright from the Meon Valley on the coast of Hampshire to Meon Hill in Warwickshire. With slides, Gary will guide you along the 'Meon Way' which includes some famous and some lesser known places of earth mystery.
September 2nd - Seven Sacred Sites - Grails, Druids and Templars.
Hugh Le Prevost and Pagan Sinclair.
The pilgrimage centre of Compostella in NW Spain,the French sacred places of Toulouse, Orleans, Notre Dame and Amiens, and Rosslyn Chapel in Scotland, are all associated with the Grail, the Black Madonna, Druids and the Knights Templar. Reflecting on their personal pilgrimages to these sites, Hugh and Sinclair, who are based in Glastonbury, share their deep and widespread knowledge. Illustrated with colour slides.
October 7th - The Great Pyramid Decoded,
Alan Alford.
Alan made his first visit to the Pyramids of Egypt as a fourteen-year-old. Following a string of academic successes he self-published "Gods of the New Millennium", which became best-seller. A full-time writer since 1997, Alan has published innovative solutions to the mysteries of Judaeo-Christianity, Greek philosophy, and Atlantis. His 2003 book "Pyramid of Secrets" has been acclaimed as "the best book ever written on the Great Pyramid", while in 2004 he has published a companion volume "The Midnight Sun". Tonight he travels down from his Midlands home to explain his theory that the Great Pyramid was a multi-functional structure: tomb, repository time capsule, memorial to the creation of the universe, and broadcaster of low frequency sound. For further details on Alan Alford's work and books see his website www.eridu.co.uk
Novovember 4th - The Crop Circle Enigma. *** CANCELLED***
Steve Alexander and Karen Douglas
Steve and Karen have spent many years studying and photographing crop circles and Steve's stunning photos are internationally renowned. Tonight they will give an overview of the latest circles of 2004 and the his theories as to their origin. See www.temporarytemples.co.uk for examples of Steve's work, books and calendars.
More details will appear as and when they are known